MANAGEMENT TEAM
---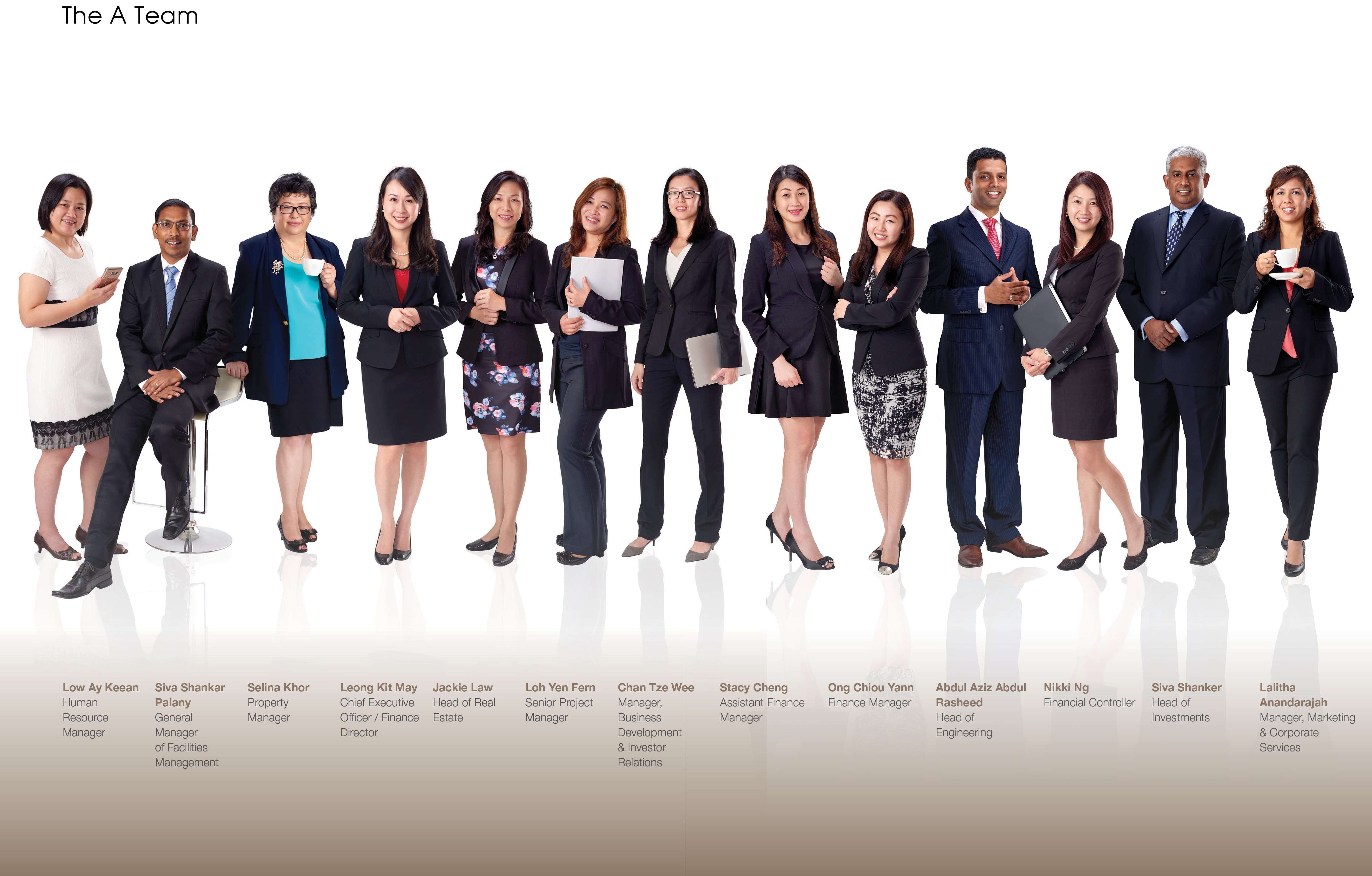 Leong Kit May
Chief Executive Officer / Finance Director
Leong Kit May joined Axis REIT Managers Berhad in 2006 where she managed financial and investment portfolios relating to office and industrial "reitable-properties". In 2008, she was promoted to Chief Financial Officer responsible for the financial management of Axis-REIT and, in the same year, she spearheaded the project of converting Axis-REIT into the world's first Islamic office / industrial REIT.
Read more...
Siva Shanker
Head of Investments
Siva Shanker joined Axis REIT Managers Berhad in January 2016 as Head of Investments. He is responsible for the identification, evaluation, due diligence and completion of potential asset acquisitions for the Fund.
Read more...
Jackie Law
Head of Real Estate
Jackie Law is the Head of Real Estate of Axis REIT Managers Berhad. She is responsible for Axis-REIT portfolio's asset management strategies and operations which include leasing, marketing, evaluating potential acquisitions, as well as recommending and analyzing potential asset enhancement initiatives for the portfolio.
Read more...
Selina Khor
Property Manager
Selina Khor is a member of the Board of Valuers, Appraisers & Estate Agent, Malaysia and the principal of Axis Property Services, the appointed Property Manager of Axis-REIT since 1 January 2007. She is responsible for the management of all the properties in Axis-REIT which includes the building and maintenance management as well as the fit out projects and enhancements. She works closely with the Head of Real Estate on tenant leasing and care, and with the CEO on valuation matters regarding existing and new properties
Read more...
Siva Shankar Palany
General Manager of Facilities Management
Siva Shankar is the General Manager of Axis Facilities Management Sdn Bhd.
He is responsible for heading the Facilities Management division which manages a range of Axis-REIT portfolio facilities across the country by providing strategic, tactical and operational support activities that will ensure the division operates at optimum efficiency and effectiveness.
Read more...
Nikki Ng
Financial Controller
Nikki Ng started her career with Axis REIT Managers Berhad as an Accountant on 15 September 2008 and was subsequently re-designated to the position of Head of Credit Control in 2012. She was promoted as Acting Financial Controller in 2015 where her responsibilities involve overseeing all of the day-to-day operations in the finance department, including management reporting as well as budgeting processes.
Read more...
Ong Chiou Yann
Finance Manager
Ong Chiou Yann joined Axis REIT Managers Berhad as Finance Manager in September 2015. Her responsibilities include the preparation of monthly and statutory financial statements and she works closely with the Financial Controller on matters related to corporate finance and regulatory compliance.
Abdul Aziz Abdul Rasheed
Head of Engineering
Abdul Aziz joined Axis Facilities Management Sdn. Bhd. in May 2013 as Facilities Maintenance and Special Projects Manager. His responsibilities include undertaking asset enhancement initiatives for all properties under the Axis REIT portfolio. This includes refurbishments, major repairs, façade enhancements, energy efficiency management and modernization of equipment. In addition, he is responsible for technical due diligence on potential asset acquisitions.
Read more...
Chan Tze Wee
Manager, Business Development & Investor Relations
Chan Tze Wee joined Axis REIT Managers Berhad in July 2014. As the business development lead, she sources for new asset acquisitions through engagement with prospective parties such as real estate consultants, business councils, chambers of commerce as well as industry associations. Her key responsibility involves the identification, evaluation and completion of asset acquisitions for the Fund by working closely with the Head of Investments. On the investor relations front, Tze Wee is responsible for maintaining stakeholder engagement activities through open communication and continuous disclosure with Unitholders, analysts and potential investors.
Read more...
Stacy Cheng
Assistant Finance Manager
Stacy Cheng was joined Axis REIT Managers Berhad in 2009 as Account Executive. She was promoted to Assistant Accountant on 1 November 2012 and re-designated as Assistant Finance Manager in 2015. Her responsibilities include overseeing the accounts payable procedures. She also works closely with the Finance Manager on preparation of financial statements and property performance analysis and reports directly to the Financial Controller.
Read more...
Lalitha Anandarajah
Manager, Marketing & Corporate Services
Lalitha Anandarajah joined Axis REIT Managers Berhad in May 2013 as the Manager – Marketing and Corporate Services. Her role includes leasing the available spaces within the portfolio, managing tenant relationships and covering all aspects of marketing for Axis-REIT.
Prior to joining the Manager, she worked in the investment promotions team at Malaysia Property Incorporated, an agency under the Economic Planning Unit tasked with promoting Malaysia internationally as a real estate investment destination. She began her real estate career with Zerin Properties, covering research and commercial leasing.
Lalitha graduated from the University of Queensland as a Bachelor of Business Management, majoring in International Business and has a Certificate in Real Estate Investment Finance from the Asia Pacific Real Estate Association (APREA).
Loh Yen Fern
Senior Project Manager
Loh Yen Fern is the Senior Project Manager of Axis Facilities Management Sdn Bhd which she joined in 2011. She is responsible for overseeing the buildings' facilities management, project planning, costing, code compliance and enhancement works for the portfolio.
Read more...
Low Ay Keean
Human Resource Manager
Low Ay Keean was appointed as HR Manager on 1 December 2015. She is responsible for the full spectrum of human resource functions which encompass manpower, recruitment and selection, compensation and benefits, training, employee welfare and industrial relations.
Read more...