Dear Unitholders,
On behalf of the Board, it gives me great pleasure to present to you Axis-REIT's 11th Annual Report for the financial year ended 31 December 2015.
2015 marked the 10th anniversary of Axis-REIT's listing on Bursa Securities. The number 10 on the cover of this year's Annual Report represents the 10 years of solid teamwork by the Board of Directors, management team and employees. This, together with the Manager's six principles of management, has served Axis-REIT well, as together they have been the driving force behind the Fund's success.
Axis-REIT's Six Principles of Management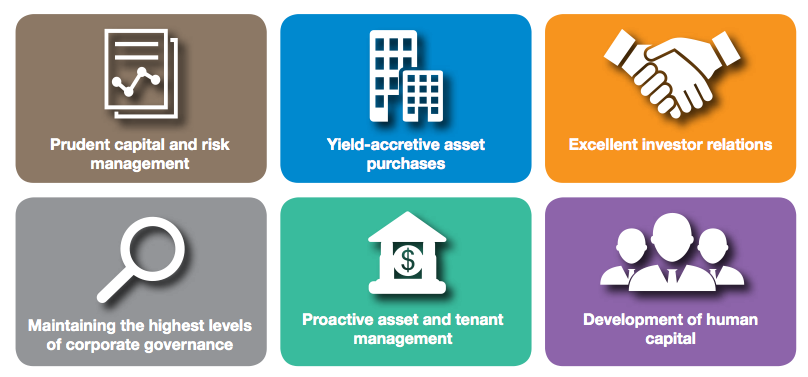 As Malaysia's pioneer listed REIT, the Fund set out, at its inception, to provide Unitholders with consistent distributions through growing its property portfolio, while maintaining the highest level of corporate governance, excellent capital and risk management and preserving capital values.
At this 10th year milestone, I am pleased to report the Fund's success in meeting its objectives, noting the steady growth in Axis- REIT's net asset value (NAV) and stable annual distributions over the years.
These achievements are underpinned by continued growth in the Fund's asset base, from a modest 5 properties in 2005, to a diverse portfolio of 34 properties as at 31 December 2015. Concurrently, the Fund's Assets Under Management (AUM) have recorded a remarkable seven-fold increase from RM296 million, at the time of listing, to RM2.14 billion as at 31 December 2015, which is testament to the Manager's stellar property selection and acquisition strategy.
AUM Milestones, 2005-2015:

Market Leadership in Innovation
Axis REIT Managers Berhad's culture of creativity, innovation and adaptability has earned Axis-REIT the distinction of being the "first" on many fronts. In addition to being Malaysia's first listed REIT, the world's first Islamic Office Industrial REIT and the country's first REIT to introduce an income distribution reinvestment plan (IDRP), I am pleased to note that in 2015 Axis-REIT became the first Malaysian REIT to implement a Unit Split to add to its many other "firsts" achieved in the past decade.
All these milestones would not have been possible without the dedication and commitment of the management team in ensuring that Axis-REIT remains the market leader among REITs in Malaysia.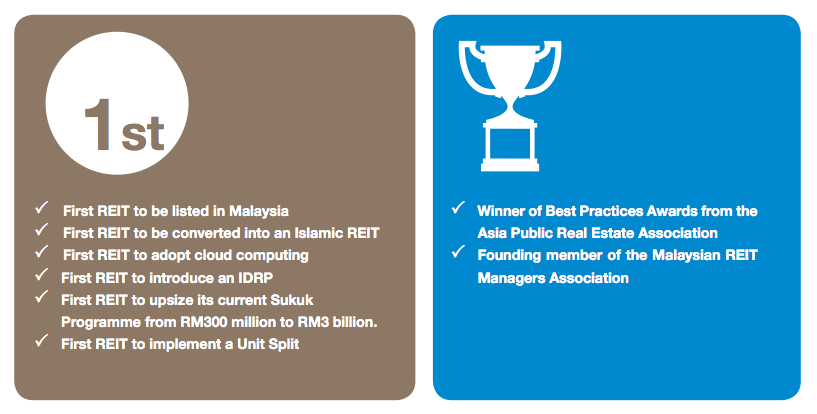 Forging Ahead
Not with standing the challenging macroeconomic environment and market conditions in 2015, Axis-REIT continued to forge ahead, leveraging on a strong balance sheet to seek and capitalise on growth opportunities.
On 31 March 2015, Axis-REIT successfully completed the RM45 million acquisition of Axis Shah Alam DC 2 – its 34th property. Thereafter, on 11 November 2015, Axis-REIT entered into a Sale and Purchase Agreement to acquire the Beyonics iPark Campus – a complex of four industrial warehouses located in Indahpura, Johor. I am pleased to report that the acquisition was completed on 28 January 2016, bringing the Fund's number of properties to 38 at the time of writing – a remarkable achievement from its modest start of just 5 properties in 2005 when the Fund was initially listed.
Distributions, Unitholders' Funds and Net Asset Value
On behalf of the Board of Directors, I am pleased to announce an income distribution of RM92.11 million for the financial year ended 31 December 2015. This translates to a distribution per unit (DPU) of 8.40 sen (based on the enlarged unit base post the unit split exercise), which has been paid or is payable as follows:
1st Interim Income Distribution of 4.10 sen per unit (equivalent to 2.05 sen per unit of the enlarged unit base after adjusting for the unit split exercise), paid on 29 May 2015;
2nd Interim Income Distribution of 4.30 sen per unit (equivalent to 2.15 sen per unit of the enlarged unit base after adjusting for the unit split exercise), paid on 11 September 2015;
3rd Interim Income Distribution of 2.20 sen per unit (based on the enlarged unit base following the unit split exercise) paid on 9 December 2015; and
Final Income Distribution of 2.00 sen per unit (based on the enlarged unit base following the unit split exercise) to be paid on 29 February 2016.
I am also pleased to report that Unitholders' capital amounted to RM1,052.27 million as at 31 December 2015, up 0.7% from 2014, while the Net Asset Value (NAV) of the Fund rose 2.0% to RM1,352.49 million. Meanwhile, the Fund recorded a RM5.79 million revaluation gain in 2015, which brings cumulative revaluation gains since listing to RM273 million.
Engaging Our Stakeholders
In 2015, Axis-REIT held two meetings with our Unitholders, the first being our Third Annual General Meeting which was held on 30 April 2015 to present Axis-REIT's audited financial statements for the financial year ended 31 December 2014.
This was followed by an Extraordinary General Meeting of Unitholders, held on 21 August 2015, for the purpose of considering the proposals in relation to the Unit Split exercise. I am pleased to report that all the resolutions presented were approved by the Unitholders.
Corporate Citizenship
Beyond our day-to-day operations, Axis REIT Managers Berhad remains committed to investing in society and in environmentally responsible programmes. During the year, the Manager continued to engage in several initiatives aimed at improving the lives of young children and Orang Asli community in the long term.
In addition, the Manager also initiated a sustainability programme across the Fund's property portfolio to conserve energy and reduce our carbon footprint. Early indications show that this is producing remarkable results with double-digit savings in our energy bills.
Further details of these programmes are provided in the Sustainbility Report section of this report.
2016: Seeking Silver Linings Amid Economic Headwinds
Looking ahead, Malaysia has seen a cautious start to 2016 amid external macroeconomic headwinds, which include languishing crude oil prices, as well as concerns over rising interest rates in the US and faltering economic growth, particularly in China.
The prolonged rout in crude oil prices has been particularly unfavourable for the country, prompting the government to revise its annual budget projections for the second consecutive year, as it seeks to balance declining oil-related revenues with its fiscal consolidation targets, while supporting economic growth. This year's budget recalibration saw the government presenting a slightly narrower GDP growth projection of 4.0-4.5% for 2016 (from 4.0-5.0% projected in October 2015) as it cut government spending allocations while maintaining the year's fiscal deficit target at 3.1%.
In addition, the budget revision included measures to bolster flagging domestic consumption and alleviate the rising cost of living. These included lowering employees' monthly contributions to the Employees' Provident Fund (EPF) and providing a special personal income tax relief for the lower to middle-income segment.
While the revised budget has been well-received, as evidenced in the positive reaction seen in Malaysian financial markets following its announcement, we do note that the Malaysian economy still faces the challenges of slower growth in 2016. The silver lining to this would be the potential emergence of yield-accretive acquisition prospects amid these headwinds and we will proactively seek, identify and leverage on our strong balance sheet to capitalise on such opportunities as they arise.
As for the Fund's existing property portfolio, we are confident that with its strategic location and diverse, quality tenant base, it will continue to deliver a consistent performance in 2016. These factors, coupled with the Manager's exceptional track record, will reinforce Axis-REIT's appeal as a preferred, defensive investment amid volatile financial markets.
In Appreciation
The success of Axis-REIT is due to the collective efforts of many parties, and I would like to take this opportunity to express my appreciation to them. Firstly, to my fellow Board members, past and present, for their wealth of advice and unrelenting contributions over the last 10 years.
I would also like to thank the management team and employees of Axis REIT Managers Berhad, who have done a remarkable job of delivering consistent results, year after year. These efforts have culminated in Axis-REIT being recognised as one of the top performing REITs in Malaysia and the region today.
On behalf of the Board, I would also like to extend our sincere appreciation to Dato' George Stewart LaBrooy, who retired as Chief Executive Officer (CEO) of Axis REIT Managers Berhad on 31 December 2015, after having founded Axis-REIT, served as a member of the Board since October 2004 and helmed the company as CEO since August 2008.
I am also pleased to congratulate Leong Kit May who succeeds Dato' George Stewart LaBrooy as CEO with effect from 1 January 2016. Kit May joined Axis REIT Managers Berhad in August 2006 and has held various positions through the years, most recently serving as Chief Operating Officer and Finance Director since January 2015. The Board is fully confident that, under her stewardship, the Fund will continue to grow from strength to strength.
As Axis-REIT commemorates its first decade since listing, we also celebrate our partnership with our Unitholders, business partners and tenants. We continuously strive to nurture strong working relationships with our stakeholders and I would like to thank all our tenants, business partners and Unitholders for their continued support, trust and confidence in us over the past 10 years.
Last but not least, I would like to thank members of the media and the investment community for their coverage and support of the Fund and the broader REIT sector.
To the Next Decade of Success
Axis-REIT has come a long way in the last decade and we look forward to replicating this success going forward. I believe the Manager has laid, and continues to lay, the foundation for stable and sustainable growth in the coming years.

YAM Tunku Dato' Seri Shahabuddin Bin Tunku Besar Burhanuddin
Chairman
15 February 2016