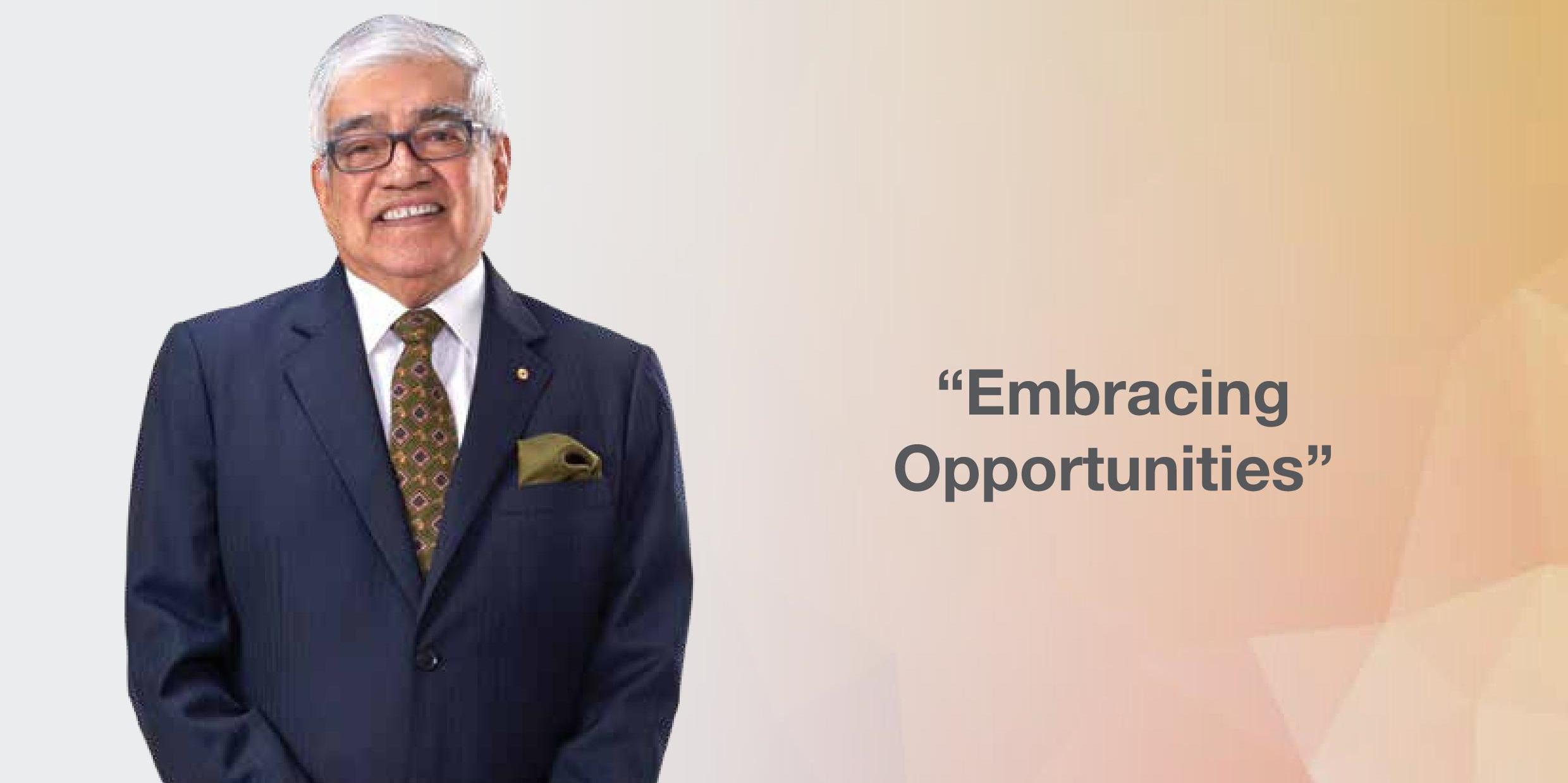 Dear Unitholders,
On behalf of the Board of Directors of Axis REIT Managers Berhad ("ARMB" or "Manager"), it gives me great pleasure to present to you the 12th Annual Report of Axis Real Estate Investment Trust ("Axis-REIT" or "Fund") for the financial year ended 31 December 2016.
2016 was another landmark year for Axis-REIT, when it embarked on its inaugural property development project, following its agreement to build and lease the 515,000 sq. ft. Nestlé Distribution Centre for Nestlé Products Sdn Bhd. Axis-REIT had received a waiver from the Securities Commission Malaysia, allowing it to undertake property development activities for up to 10% of its enlarged total assets value, which opened up a new avenue of growth for the Fund. Thus, "Embracing Opportunities", the theme for our 2016 Annual Report, reflects Axis-REIT's efforts to seek out and capitalise on new opportunities that may arise from this venture, in its pursuit of maximising returns to Unitholders, providing Unitholders with stable income distributions and achieving sustainable growth in the Fund's net asset value ("NAV").
Milestones Accomplished
Axis-REIT has stayed on track in pursuing yield-accretive asset acquisitions throughout 2016. In January 2016, the Fund completed the acquisition of a collection of four single-storey industrial warehouses located in Indahpura, Johor, known as the Beyonics i-Park Campus Blocks A, B, C and D. Thereafter, on 15 November 2016, it completed the acquisition of a manufacturing facility in Rawang, Selangor, known as the Scomi Facility @ Rawang. These acquisitions added five properties to Axis-REIT's property portfolio, bringing its total number of properties to 39 as at 31 December 2016. In the first quarter of 2017, Axis-REIT targets to complete the disposal of Axis Eureka, a four-storey office building located in Cyberjaya. The disposal will result in a net gain of approximately RM1.2 million, which translates into an incremental income distribution of 0.11 sen per unit that will be recognised in the current financial year.

Continued Leadership
2016 also saw a smooth and professionally executed CEO succession plan, with Leong Kit May taking the reins as CEO of the Manager on 1 January 2016 and seamlessly assuming the executive duties of the role. We are pleased to note that under her stewardship, the entire management team and employees have remained focused on implementing and executing the strategies and targets that had been set by the Board, and the interests and confidence of all stakeholders remain safeguarded.
Distributions, Unitholders' Funds and NAV
On behalf of the Board of Directors, I am pleased to announce a total income distribution of 8.25 sen per unit for the financial year ended 31 December 2016. This amounts to a total income distribution of RM91,067,000 for the year, which has been paid or is payable as follows:
First Interim Income Distribution of 2.05 sen per unit, paid on 16 June 2016;
Second Interim Income Distribution of 2.05 sen per unit, paid on 9 September 2016;
Third Interim Income Distribution of 2.05 sen per unit, paid on 30 November 2016; and
Final Income Distribution of 2.10 sen per unit, payable on 28 February 2017.
The Income Distribution Reinvestment Plan ("IDRP") was applied to the First Interim Income Distribution, where 5,380,523 new units in Axis-REIT were issued and allotted on 16 June 2016, and listed on Bursa Malaysia on 17 June 2016. Gross proceeds of RM8,070,785 were raised from the issuance of IDRP units, and were used to finance the Fund's property enhancement initiatives. Following the IDRP, the Fund's issued size grew from 1,099,793,068 units to 1,105,173,591 units.
I am also pleased to report that the NAV of the Fund rose to RM1,392.97 million as at 31 December 2016, up by 3% from 2015. Meanwhile, the Fund recorded a RM29.86 million revaluation gain in 2016, which brings cumulative revaluation gains since listing to RM303 million.
Annual Forum with Unitholders
The Fourth Annual General Meeting ("AGM") of Axis-REIT was held on 29 April 2016 to present Axis-REIT's audited financial statements for the financial year ended 31 December 2015 to Unitholders. Two Ordinary Resolutions were also tabled at the AGM, and I am pleased to note that both resolutions (i) the renewal of the general mandate to issue new units in Axis-REIT and (ii) the renewal of the mandate for the IDRP, were approved by Unitholders.
Staying Ahead through Sustainability

In pursuit of the Fund's primary objectives and long-term mission, we believe sustainability is the key pillar that upholds our "People, Planet, Profit" triple bottom line. Elements of sustainability are embedded in our operations, and this year, we have adopted detailed sustainability reporting in compliance with Bursa Malaysia's Listing Requirements. With guidance from industry experts, we have prepared Axis-REIT's Sustainability Report in accordance with the Global Reporting Initiative G4 Guidelines, and have included it in this Annual Report. The Sustainability Report presents in detail, the governance structure put in place to manage our economic, environmental and social risks and opportunities during the financial year 2016.
2017: The Outlook of the Malaysian Economy
Malaysia's economy has been resilient in the face of significant headwinds in 2016, with GDP growth for the year projected at between 4.0% and 4.5%. Growth is forecast to continue at a moderate pace in 2017, underpinned by a recovery in energy prices, the government's pro-growth initiatives that are supportive of private consumption, as well as on-going big-ticket infrastructure projects, which will sustain the momentum of public and private investments.
However, there are still external headwinds to contend with. These include uncertainties over global trade policies, as well as downside risks to the macroeconomic outlooks of some of our key trading partners, which could negatively impact Malaysia's economy given its high trade dependence.
2017: Prospects
As the year progresses, the Manager will continue to be guided by its long term strategy, while building on the key successes of recent years. The Fund is on track to complete the construction of Nestlé Distribution Centre by the end of the year, and expects to complete one previously announced property acquisition in 2017.
While the overall property market generally remains soft, Axis-REIT's portfolio of properties will continue to appeal to tenants who demand good facilities in strategic locations at reasonable prices. Current market conditions also present favourable acquisition opportunities, and the Manager will continue to actively seek and evaluate suitable yield-accretive assets for inclusion in Axis- REIT's portfolio of properties.
Notwithstanding the conditions of the property market and broader economy, we remain confident that the Fund will deliver satisfactory results in the coming year.
In Appreciation
2016 was an important year for us: from the seamless transition in ARMB's key management team, to Axis-REIT's maiden foray into property development, the Manager has continued to lay a strong foundation for growth, and will continue to capitalise on new opportunities while maintaining a sustainable footprint in all aspects of its operations.
These achievements are the result of the continued commitment and dedication of the team behind Axis-REIT, and I would like to take this opportunity to thank the entire team, from our distinguished Board members, to the management team and operations staff, who continuously strive to deliver their best.
On behalf of the Manager, I would also like to express our appreciation to our business partners, tenants and Unitholders, who continue to work with us, and place their trust in our ability to steer the Fund through an ever-changing business environment. We would also like to thank members of the media and the investment community for their coverage and support of the Fund and the broader REIT sector. We look forward to our continued collaboration in the years to come.
YAM Tunku Dato' Seri Shahabuddin Bin Tunku Besar Burhanuddin
Chairman
15 February 2017